F-1 Students Can Now File Form I-765 Online
U.S. Citizenship and Immigration Services announced on 4/12/2021 that F-1 students seeking Optional Practical Training (OPT) and 24 month STEM Extension of OPT (STEM) can now file online. Please click here for the entire announcement. Please remember that the first step in your application continues to be requesting your OPT or STEM recommendation I-20 form from OGS. Review the Applying for OPT, and Applying for STEM Extension for more details.
Announcement: USCIS announced flexibilities for certain applicants filing for OPT and STEM Extension on February 26, 2021.
The announcement is available here and answers to frequently asked questions are provided below.
FAQs
1 Do these flexibilities apply to me? 
These flexibilities apply to students who applied for OPT (Optional Practical Training) or OPT STEM Extension and UCSIS received your application on or after Oct. 1, 2020, through October 31, 2021.
2 Why is USCIS offering these flexibilities? 
USCIS experienced delays in issuing receipts for OPT applications due to the COVID-19 pandemic. They have made progress with addressing the problem but are extending flexibilities to assist certain OPT applicants  impacted by the delays. 
3 What flexibilities is USCIS offering to certain OPT applicants?  
USCIS is offering the following flexibilities: 
14-month OPT Period Flexibilities 
Remember! USCIS approval dates for OPT depend on the date you apply, and subsequently, the date your application is adjudicated. When a student applies during their grace period (within 60 days from the date of graduation), their OPT end date can be up to 14 months from the graduation date. The duration of your Employment Authorization does not exceed 12 months.  
To allow F-1 students to complete the full period of requested OPT (up to 12 months), USCIS will allow the 14-month period to commence from the 

date of approval

 of the Form I-765 for applications for post-completion OPT.

 

Beginning February 26, 2021, USCIS will approve applications for post-completion OPT with validity dates reflecting the same amount of time originally recommended by the designated school official (DSO) from their school on the Form I-20, Certificate of Eligibility for Nonimmigrant Student Status.

 
F-1 students requesting post-completion OPT who receive an approval of Form I-765 for less than the full amount of OPT time requested (not to exceed 12 months) due to the requirement that the OPT be completed within 14 months of the program end date may 

request a correction

 of the EAD due to USCIS error. USCIS will issue a corrected EAD with a new end date, as requested, to cover the full amount of OPT time recommended in the original application.

 
Refiling Following Rejection 
This applies to any student who received a rejection notice due to the lockbox delays, despite having timely filed Form I-765 for OPT and was unable to timely refile within the required application timeframes. 
USCIS will accept a refiled Form I-765 for OPT and STEM OPT as filed on the original filing date if: 
The original, timely filed application was received on or after Oct. 1, 2020, through October 31, 2021,

both dates included

; and

 
USCIS subsequently rejected it.

 
Refiled applications must be received by November 30, 2021, for USCIS to treat the application as though filed on the original received date. 
Do I need to request OGS to give me a new I-20 for refiling? 

 
No you do not need to obtain a new Form I-20 with an updated OPT recommendation from the DSO, as long as you originally submitted an application for post-completion OPT within 30 days of the DSO's recommendation or an application for STEM OPT within 60 days of the DSO's recommendation as required by the regulations. 
Important! If you are refiling an application, you should include a copy of the rejection notice to facilitate review of the case. 
Missing or Deficient Signatures 
Note that applications with missing or deficient signatures are generally rejected at the lockbox. This policy remains unchanged. However, if the lockbox accepts a Form I-765 application for OPT or STEM OPT with a missing or deficient signature, USCIS will issue a Request for Evidence (RFE) rather than deny the application, to give you the opportunity to respond and provide the necessary signature or correct the deficiency.  
It is your responsibility to review the Form I-765 instructions on the USCIS website to ensure your application is complete before filing it.  
Should you have additional inquiries, please reach out to OGS and an advisor will get back to you as soon as possible.  
USCIS Lockbox Updates
Due to the COVID-19 pandemic and other factors, USCIS is experiencing delays in issuing receipt notices for some applications and petitions filed at a USCIS lockbox facility. The information below explains the current state of the lockbox operations and the issues affecting receipt notices. Release Date 01/08/2021
The information below explains the current state of the USCIS lockbox operations and the issues affecting receipt notices.
Current Situation
As a result of COVID-19 restrictions, an increase in filings, current postal service volume and other external factors, you may experience a delay of four to six weeks in receiving your receipt notice after properly filing an application or petition with a USCIS lockbox. These delays will not affect the receipt date which is determined pursuant to 8 C.F.R. 103.2(a)(7). Delays may vary among form types and lockbox locations. In some cases, you may experience significant delays if you filed a non-family based Form I-485, Application to Register Permanent Residence or Adjust Status, or Form I-765, Application for Employment Authorization, based on eligibility categories described in 8 C.F.R. 274a.12(c)(3), relating to F-1 students.
The health and safety of our workforce remains a top priority. Across all USCIS offices, including lockbox facilities, the agency has taken necessary measures such as increased social distancing and frequent cleaning in accordance with the Centers for Disease Control guidance to mitigate the spread of COVID-19. Some lockbox operations in locations that have been severely impacted by COVID-19 must adhere to stricter local guidelines.
What USCIS Is Doing
The USCIS lockbox workforce¹ is working extra hours and redistributing its workload in order to minimize delays. Once we open and process your application, we print and mail the receipt notice. We do not anticipate any receipting delays that would result in a payment that is past its validity date.
What You Can Do
If you have already filed your application and are waiting for your receipt notice, we appreciate your patience. We are working as quickly as possible to complete the intake of all filings.
You can take steps to decrease the time it takes us to process and send your receipt notice or find out the status of your case:
Finally, visit our Form Filing Tips webpage for more information on filing with USCIS and our online tools for help in managing your application.
---
¹The USCIS lockbox facilities located in Chicago, Illinois; Phoenix, Arizona; and Lewisville, Texas, are operated by a Department of Treasury designated financial agent, plus federal staff.
Eligibility
Post-Completion OPT is a benefit available to those in valid F-1 student status. It is 12 months of work authorization granted by USCIS to F-1 students for the purpose of gaining practical experience directly related to their program of study. OGS first recommends OPT and the student then applies to the USCIS for work authorization, which is authorized in the form of an Employment Authorization Document (EAD). Post-Completion OPT takes place after the program completion date (the end of the program of study, not necessarily the date of graduation).
Students can apply for 12 months of Post-Completion OPT upon completion of each higher degree level. Only one Post-Completion OPT application is allowed per academic degree level (i.e. Bachelor's, Master's, PhD).
You may apply for Post-Completion OPT only if all of the following criteria have been met:
You have maintained a valid F-1 student status
You have enrolled full-time for at least one academic year
You have completed fewer than 365 days of full-time Curricular Practical Training at the degree level for which you are applying for OPT
You have completed all coursework but are in final stages of thesis/dissertation
You have not already departed the U.S. after the program completion date
NOTE: If you depart the U.S. before your OPT application has been filed, received and receipted by the USCIS, you become ineligible to apply for Post-Completion OPT if your program has ended.
When you can apply
You may apply to USCIS for Post-Completion OPT work authorization no earlier than 90 days prior to your program completion date. Post-Completion OPT applications cannot be submitted to USCIS later than 60 days after the program completion date (i.e. during the 60-day grace period). Once your program has ended, plan to submit your documents by the middle of your grace period to allow enough time for your application to be successfully received.
OPT application timeline
Important reminder about completion date
The program end date on your I-20 is an estimated program end date, which may be different from your actual program end date. You must apply for OPT based on your last registered term. For immigration purposes, program completion date corresponds with the last term of enrollment, not necessarily the date of the graduation ceremony or degree conferral date.
For example, if you finish all of your courses in May, but your degree conferral is in August, your I-20 end date will be a May date if you have no registration over the summer.
Choosing a completion date for PhD students
Students in the PhD program may choose the date of completion based on any of the following dates:
Dissertation defense date, or
Dissertation/correction submission date, or
End of last registered term
How to choose OPT start dates
If you have not used any Pre-Completion OPT time, you can request up to 12 months of Post-Completion OPT. You must request a start date within the 60-day grace period of your program. You select your own start and end date for OPT (even if you do not yet have a job offer).
Here are some general suggestions to help you make the best decision for your situation:
If you have a job offer and your job starts during your 60-day grace period, use the job start date (or earlier) as your requested start of OPT
If you have a job offer and it starts after your 60-day grace period, use the latest date possible (59th day of grace period) for your OPT start date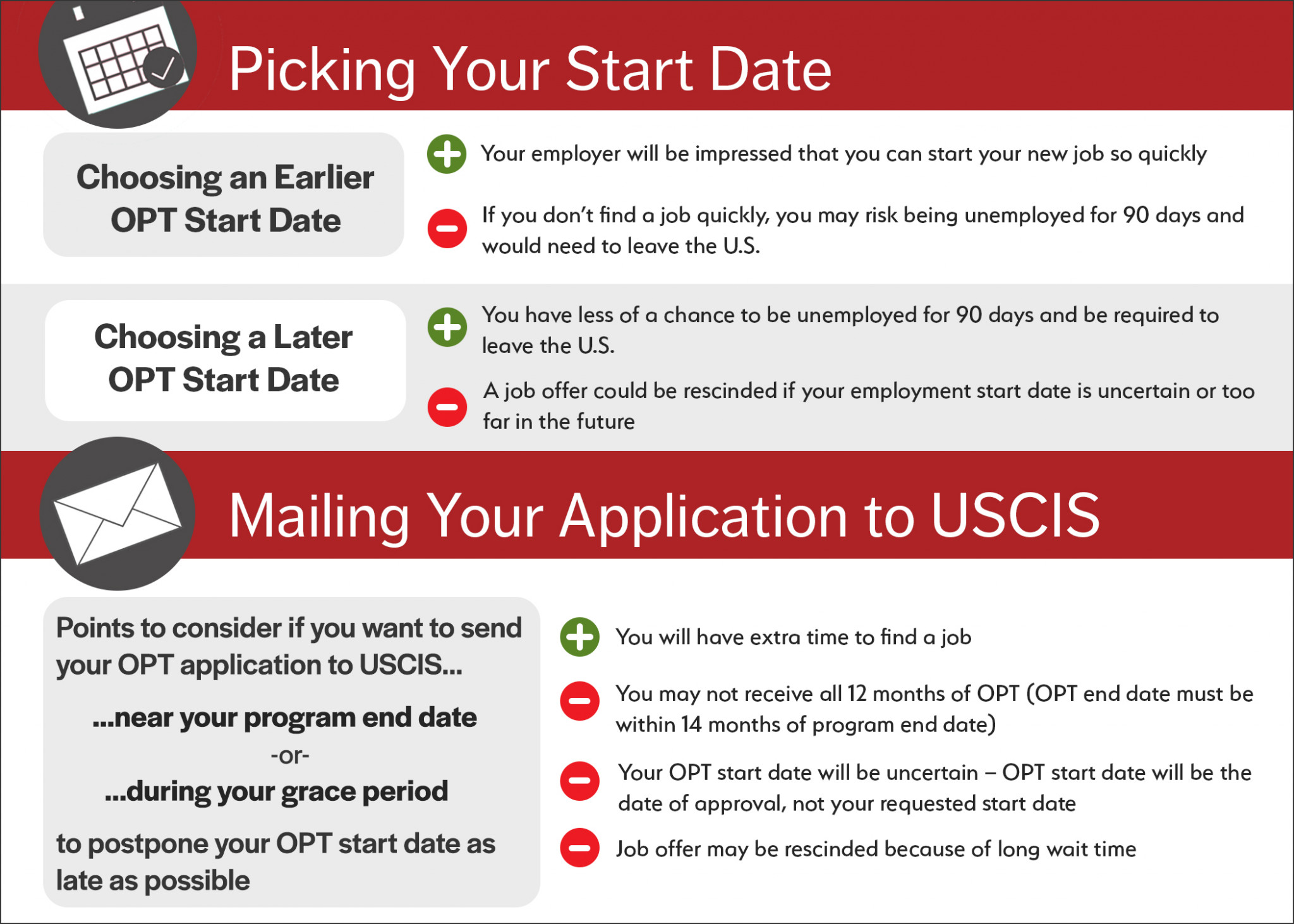 REMINDER: If there is a gap between your completion date and OPT start date, you have no work authorization during the gap!
PhD students
If a PhD student has completed all his/her coursework but is in the final stages of thesis/dissertation, immigration regulations allow the student to apply for either Pre-Completion OPT or Post-Completion OPT while completing his/her thesis/dissertation.
In this case, the PhD student and his/her college need to determine the end date of program completion, and the student's I-20 will reflect it as the completion date of his/her program.
Please note that if you choose to apply for Post-Completion OPT while completing thesis/dissertation,
You must fulfill the reporting requirements of Post-Completion OPT
Days you do not have a job count toward 90 days of unemployment time
You cannot request program extension even if your thesis/dissertation is not completed after Post-Completion OPT is expired
Type of employment
It is the responsibility of the student to determine if the accepted employment is related to his/her program of study.
The following criteria must be met when you engage in work during Post-Completion OPT:
You must work a minimum of 20 hours per week
All work must be directly related to your program of study
When considering work opportunities, the following employment types are permissible for OPT:
Paid or unpaid employment
Multiple employers: you may work for multiple employers while on Post-Completion OPT. All work obtained must be directly related to your program of study
Work for hire: This is often referred to as 1099 employment. You can contract yourself out to a company. (This is similar to working as a freelancer)
Self-employed/business owner: You may start your own business. (Consult with a lawyer in order to find out what is needed to start a company)
Employment through an agency or consulting firm: You may work for a placement agency or consulting firm. (This experience will usually involve temporary or contract work)
NOTE: Guidelines for STEM employers differ; please see our Science, Technology, Engineering and Mathematics (STEM) OPT section for more details
Mailing your documents
Once you have your documents and I-20 for Post-Completion OPT and you have copied all documentation and assembled the packet, you must send it to the USCIS address below. However its always best practice to confirm the most up-to-date USCIS Direct Filing Addresses for Form I-765 directly on the USCIS website.  It is recommended you mail your OPT packet through certified mail which includes a tracking number and guaranteed delivery date.
Effective 01/08/2021, you will mail your application to the USCIS Chicago lockbox:
For U.S. Postal Service deliveries:
Attn: I-765 C03
P.O. Box 805373
Chicago, IL 60680-5374
For courier service deliveries (non-U.S. Postal Service:  FedEx, UPS, and DHL):
USCIS
Attn: I-765 C03 (Box 805373)
131 South Dearborn – 3rd Floor
Chicago, IL 60603-5517
eShipGlobal mailing option
eShipGlobal offers a shipping service for international students sending their OPT application to USCIS. eShipGlobal allows students to send OPT applications to the USCIS offices. Students can choose their carrier (UPS, FedEx, or United States Postal Service), what type of delivery (next day, 2-day, etc.) and ship at discounted rates.
This service is not a Northeastern service. All inquiries should be directed to eShipGlobal directly.
Northeastern does not ship OPT applications to USCIS for students.
For more information on how to use this service, please see these instructions: eShipGlobal Instructions
OPT document processing
OGS requires 10 business days to process a request for Post-Completion OPT recommendation. USCIS generally requires around 100 days to process an EAD card.
Submitting documents to Immigration Services:
You should receive a receipt notice I-797C from USCIS
Once your OPT is approved, expect to first receive an approval notice and then an EAD card
You may not work until you receive your EAD card and you may only work within the dates specified on the EAD card. NOTE: The EAD card, not your approval notice, is your work authorization documentation.)
Please note that the US Citizenship and Immigration Service (USCIS) is taking longer than usual to send out the form I-797 Notice of Action.
However you are still able to track your application using the Case Tracking tool provided by USCIS https://egov.uscis.gov/casestatus/landing.do.  This is the best tool to track the progress of your application.
In order to track your application, you will need to have your receipt number.  You may obtain this number:
If you submitted the G1145 form with your application, you will be informed electronically by email and/or text
If you paid for your OPT fee by personal check, the back of the cashed check will have the number. You may obtain a copy of this check from your bank.
By calling the USCIS call center at 800-375-5283 – you may have a long wait to speak to a representative by phone. Please try the above first for quickest response.
Note: your application will remain in "pending" status until a decision has been made on your application (this may be a few months).  Please be aware that this is a normal processing timeframe, and regrettably OGS is unable to assist in expediting any requests.
Adjudication of your application is completed by USCIS.  Therefore USCIS will inform you directly of the official receipt, request for additional information, and the decision on your application.
OGS is here to guide you if you receive any communication from USCIS that requires response (request for additional information, denial, etc.)
Important reminders
USCIS must receive the OPT application within 30 days of the issuing OPT recommendation by OGS; if the application is not received by USCIS within 30 days after the issuance of the OPT I-20, the application will be denied. (THIS IS THE MOST COMMON REASON FOR OPT DENIAL)
Do not mail in your application so that USCIS receives it more than 90 days before your program end date or more than 60 days after the program end date. (Applications received outside of these times will be denied)
If your entire application is returned to you, consult with an OGS Advisor before resubmitting the application; your application may not be considered "received" and you may need a new I-20 with OPT recommendation
Do not submit an OPT application to USCIS prior to obtaining I-20 with OPT recommendation
Do not wait for a job offer in order to start the OPT application process
Make sure that the address on your OPT application is valid for receiving mail at all times during OPT processing
Completing I-765 for Post-Completion OPT
The numbers below correspond to the numbered items on Form I-765. This form may be downloaded from uscis.gov. Please refer to USCIS I-765 Instructions. Below are some general guidelines for completing Form I-765 for Post-Completion OPT. Please read the instructions for each item and write the information on the form, printing clearly and legibly or you may type the form online and print it.
Part 1. Reason for Applying
Field 1: I am applying for… – Unless you are applying for a replace of a lost EAD card, you should indicate that you are applying for "Initial permission to accept employment."
Part 2. Information About You
Field 1: Your Name – Print clearly or type your family name in capital letters, followed by the first or given and middle name(s) if any. Write your name as it appears in your passport.
Fields 2-4: Other Names Used – Fill this out only if you have used other names on official documents or if you have a maiden name (name used prior to marriage, usually applies to women who have married).
Fields 5-6: Mailing Address – The address you enter here should be the address to which correspondence can be sent for the next 3-4 months during the OPT application period. If you are providing an address where you do not reside, please provide the name of the person who resides at that address in Field 5.a. In Care of Name.
Address errors (i.e. undeliverable address, moving before OPT is approved, etc.) are a common cause for delay of or failure to receive the OPT EAD.
Field 7: Physical Address – If different from mailing address, the address where you reside in the U.S.
Field 8: Alien Registration Number – If you have an A-Number, enter it here.
Field 9: USCIS Online Account Number – If you have created an online account with USCIS, enter your account number here.
Field 10: Gender – Check the appropriate box.
Field 11: Marital Status – Check the appropriate box.
Field 12: Previously filed I-765? – Check no if you have never applied to USCIS for F-1 OPT or other work authorization. If you have previously applied, check yes.
Field 13: Has the Social Security Administration (SSA) ever officially issued a Social Security card to you? – Check the appropriate box.
If yes, skip to Item 13b.
If no, skip to Item 14.
Field 14: Do you want the SSA to issue you a Social Security card? – Check the appropriate box. If you check no, skip to Item 18a. You will not receive a Social Security card.
Field 15: Consent for Disclosure – Only answer Item 15 if you checked yes in Item 14. Complete Fields 16-17.
Field 18: Your Country or Countries of Citizenship or Nationality – List all countries where you are currently a citizen or national. The country of citizenship should match what appears on the applicant's I-20.
Field 19: Place of Birth – Provide city, state, and country of applicant's birth.
Field 20: Date of Birth – Enter the numerical date of birth as month/day/year (4 digits). For example, June 29, 1988 should be entered as 06/29/1988.
Field 21: Information About Your Last Arrival in the U.S. – Enter the 11-digit I-94 number that is found on the electronic I-94. It is called "Admission (I-94) Record Number."
Field 22: Date of Your Last Arrival Into the U.S. – Enter the numerical date of latest entry as month/day/year (4 digits).
Field 23: Place of your Last Arrival Into the U.S. – Enter the place of last entry. The place of entry is often written in three letter abbreviations, such as BOS for Boston and SFR for San Francisco.
Field 24: Immigration Status at Your Last Arrival – If F-1 appears on your I-94, enter student. If you entered in another status and changed your non-immigrant status in the U.S. and have not traveled outside of the U.S. since receiving your change of status, please indicate the status you held upon initial entry into the U.S.
Field 25: Current Immigration Status – Enter student.
Field 26: Student and Exchange Visitor Information System (SEVIS) Number – Enter the 10-digit SEVIS ID starting with N that is found on the top left of your I-20.
Field 27: Eligibility Category – Enter the appropriate code for the work authorization category you are requesting.
Pre-Completion OPT is (c) (3) (A)
Post-Completion OPT is (c) (3) (B)
STEM OPT is (c) (3) (C)
Fields 28-31: Eligibility category specific questions. Skip to Part 3.
Part 3. Applicant's Statement, Contact Information, Declaration, Certification, and Signature
Fields 1-2: Applicant's Statement – Check Item 1a. unless an interpreter translated the form for you or another person prepared the form on your behalf. You should not check Item 1b. nor Item 2 if you are filing on your own without the help of an interpreter or another person.
Fields 3-5: Applicant's Contact Information – Provide requested contact information.
Field 6: Select this box if you are a Salvadoran or Guatemalan national eligible for benefits under the AVC settlement agreement.
Field 7: Applicant's Signature – Acknowledge Applicant's Declaration and Certification by providing your signature and date.
Parts 4-5 – These sections should only be completed if you have an interpreter translate the form for you or another person complete the form on your behalf. You should not complete this section if you are filing on your own without the help of an interpreter or another person.
Part 6. Additional Information – Use this extra space to provide any additional information required on the application.
OPT Application Denied
If your OPT application is denied, please wait to receive your denial notice in the mail. Once you receive it, make an appointment to meet with an OGS advisor to discuss your situation. Please schedule an appointment with an OGS advisor by calling 617-373-2310 or visiting our front desk at 354 Richards Hall.
Travel while on OPT
Students on Post-Completion OPT can travel abroad. In order to re-enter the U.S., the following documents are required:
A passport that is valid for 6 months from the date of your return to the U.S.
A valid F-1 student visa stamp
A valid I-20 with OPT recommendation and a valid travel signature on page 2*
*Travel signatures are valid for 6 months while you are on OPT.
A valid EAD card
Proof of employment (an offer letter can be used)
Given the information above, travel before an EAD card has been approved and received is not advisable. NOTE: If you depart the U.S. before your OPT application has been filed, received, and receipted by the USCIS, you become ineligible to apply for Post-Completion OPT if your program has ended.